The Power of Segmenting Your List
When it comes to email marketing, most business owners send out every email to everyone on their list. They write up a quick newsletter, select everyone on their list, and hit "Send."
And while this may be the easy way to do things, it's certainly not the most effective.
Blasting emails to everyone on your list is a mistake. It's like advertising to the masses with a billboard instead of through highly targeted television commercials.
The first method simply blasts the message out to every person and hopes it sticks with a few people. The second method seeks to put the right message in front of the right people at the right time.
The general principle for the more effective method is called segmentation.
Smart business owners segment their email lists. They send highly specific emails to highly targeted segments of their list.
Segmenting your list has proven to be highly effective when it comes to email marketing. MailChimp found that users who segment their lists get 14.37% higher open rates, 64.78% more clicks, and 8.98% lower unsubscribe rates. In the email marketing world, these are huge numbers.
Segmentation makes sense on an intuitive level, too. After all, probably not every email you send is appropriate for everyone on your list:
● Some emails should go to new subscribers.
● Others should go to those who have downloaded certain resources.
● Still others should go to those who have expressed interest in something you offered.
Segmentation allows you to get the right message in front of the right people.
Of course, this raises the question: how should you segment your email list?
It's easy to talk about segmentation in the abstract, but when it comes to the nitty-gritty, it's not so easy.
One thing to note before we get started. In order to effectively segment your list, you'll need to use an email marketing software.
Any of these will work fine if you want to take advantage of segmentation:
● ConvertKit
● Aweber
● Drip
● ConstantContact
● GetResponse
● ActiveCampaign
● MailChimp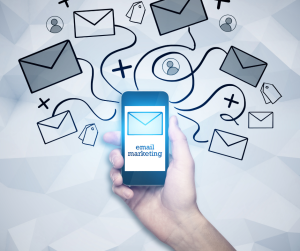 These email platforms make it very easy to segment your list. If you don't use an email marketing software, you'll find it almost impossible.
So what are the next steps? Start small, with easy segmentations.
Some of the easiest ways to segment your list are:
● New subscriber
● Preference (self-segmentation)
● Open rate
● Buyers and non-buyers
● Age
● Gender
● Clicks
● Events
These methods of segmentation typically require the least amount of effort and have a high ROI. They get you the most bang for your buck.
Once you've segmented in these ways and are comfortable with how to segment, you can begin to move on to the more complex methods of segmentation.
Whatever you do, don't wait to start segmenting your list. It's one of the most effective ways to increase the overall ROI of your email list. You'll get more engagement, have happier subscribers, and generate more revenue from your list.
So do the hard work of segmenting your list. You won't regret it.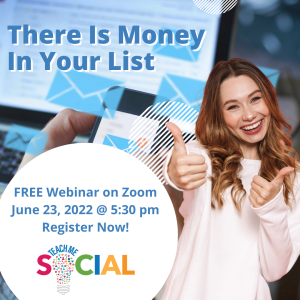 FREE WEBINAR – Thursday June 23 – 5:30 pm (EDT) 
The money is in the list. You have heard this a few times before it is because it is very true.
An email list is a valuable asset and essential for all business owners.
No matter how many times that you read about email marketing being dead it isn't true. It is certainly more of a challenge these days because so many companies and individuals are doing it. But it is far from dead. The secret to success with email marketing these days is a solid email list and to stand out from the crowd.
In this webinar you will learn how to build a responsive email list from scratch.
Register at There Is Money In Your List