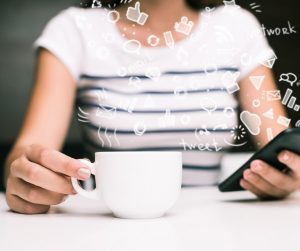 By now you probably agree that having a social media presence is a good idea for your business. Hopefully you've also taken time to determine who your target audience is online and have a good feel for the vibe you want to radiate to the world. Once you've decided what platforms you want to use, it's time to help make your social media presence stand out in the crowd. Here are some tips to help make your social media STAND OUT
TIP- Seek relationships, not stats
TIP- Keep it real
TIP- Give back and care
TIP- Be a good host
It's about relationships, not followers– The rules of social media will tell you that your numbers determine your success. Gaining followers should be an organic experience. Buying followers or doing crazy online acrobatics to boost your views and follows doesn't pay off in the long run. Stick to building relationships with the people who are already there. Engage with people. Follow them back and be a part of their lives and they will show up for your goods and services.
Keep it real– Being open and honest…within reason, can help you stand out online. Finding the balance between everything being sunny and fabulous and sharing the honest ups and downs of life is an important part of social media. People are attracted to brands that are relatable. Stand out by showing some behind the scenes content as well as your regular posts.
Give back and care– Your social media should be a reflection of what's relative to the people you serve. Highlighting holiday's, social issues, and giving back all make you stand out. While you don't have to be polarizing and alienating, it's important to be real and honest about the things you care about. Your target audience will resonate with your company and build trust and loyalty.
Be a good host– Think of having someone on your social media platform like having them over to your home. Be sure to be a good host. Make them feel welcome and offer them content that is entertaining and makes them want to come back. Be conscientious about them as a follower and think about what will make them feel good when they are around you.
If you follow these simple tips you're more likely to stand out on social media. How you do the activities is entirely up to you. You can be as bold or as subtle as you'd like. Consistently serve up quality content and make the experience enjoyable and you'll build a brand online that brings you business.

Join our Simply Smart Marketing group on Facebook
Just getting started using Social Media for Marketing? We have a training program to help you be more effective Simply Smart Training