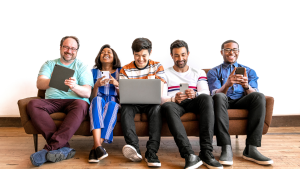 Social media is ever-changing. What's working today may be old news before year's end. One thing that never changes is the desire to engage your audience. Creating interest, relationships and buzz is what social media marketing is all about. One of the most popular platforms for generating this engagement with fans and customers is Facebook. Let's take a look at some proven ways to boost Facebook engagement effectively and successfully.
Create Content People Love to Share
The number one rule of thumb for choosing content to share on Facebook is that it be something your particular demographic will find interesting enough to share. That means the information should be relevant to your audience, making it something that is meaningful to them. Your content should cause them to stop and think. That means it has to be eye-catching. After all, the average social media user does a lot more scrolling in comparison to what they choose to share. Finally, what you post should be something that paints the sharer in a positive light. People love to impress their friends. Shoot for content that is emotional, funny, insightful, educational and unique.
Mix It Up
Facebook's algorithm can be unpredictable and ever-changing. However, what seems to work well in terms of increasing your chances of being seen is the use of various types of content. The more fans you're able to reach, the higher your likelihood of engagement. So get creative in the types of stuff you put out there. One of the most underutilized formats is likely video. The return on your investment should be substantial if you take the time to put together some original video content that's useful to your audience. Other ways to mix it up would be to post photos that show personal aspects of your business such as behind-the-scenes access, humorous memes related to your subject area, useful infographics or motivational graphics.
Take Advantage of Facebook Live
Facebook Live gives you a built-in tool for creating simple video content. Be sure to let your page users know ahead of time that you will be airing live content. Doing so lets them know when to tune-in, and it's also great for promotional purposes. Sharing teasers and hints ahead of time can up the excitement.
Post at Various Times
It's advised to post something new at least once a day. However, if you notice your engagement isn't as vibrant as you'd like it to be, there's a good chance you're posting when your audience isn't online. You can fix that by testing different times to see which receive the most interaction. It's never a good idea to simply use a third-party resource to auto-publish your posts and forget them. It's imperative to be mindful of the type of content you're sharing in relation to what's happening in the world and in your audience's lives. You don't want your brand to be perceived as insensitive or uncaring.
Embed Facebook Posts to Your Blog
Did you know you could share your Facebook content directly in a post on your blog? You sure can, and it's easy. All you have to do is click on the timestamp of your Facebook post, and then go to the arrow in the top right corner to choose "Embed" from the pull-down menu that appears when you click that arrow. You now have the embed code to copy and paste into the HTML of your blog post. Readers who find it interesting can be taken straight to the content on your Facebook page with just one click, where they can share the post with friends or comment on it.
To boost Facebook engagement simply requires a bit of creativity, variety and relevancy. Knowing your audience and giving them the kinds of information they love in formats that aren't always the same and at times they use Facebook most can work wonders when it comes to increasing your shared content.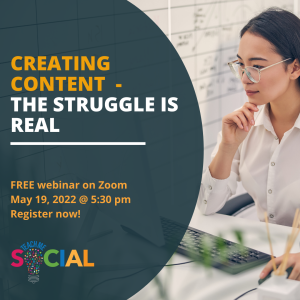 Join us for our next FREE Webinar 
Thursday May 19 5:30 PM (EDT) on Zoom
Creating Content – The Struggle is Real
You must create valuable content to stand out on social media. And by valuable, I mean content that has the potential to change your audience's lives for the better!
Something that offers a unique insight into your niche and establishes your brand as an authority.
On this webinar you will learn:
– How to plan out your content
– How to create content
– How to generate content ideas
Register at Creating Content – The Struggle is Real