The phrase "Digital Marketing"  has grown in scope and meaning over the years. A few decades ago, digital marketing could have meant the old bank signs that told time and temperature.  Now digital marketing could mean several different types of internet marketing.  If you are in marketing, you need to know what each subset of digital marketing involves and the similarities and differences between them.  Let's look at Digital Marketing and its various parts.
Email Marketing
Email marketing is one of the oldest types of digital marketing. A list of customer emails who use your products or services is invaluable. This tool allows you to automatically update customers on your list about events at your company, or announce a new good or service. An excellent way to get a list of customer's emails is to have a strong call to action (CTA) on your site asking customers to subscribe. Customers who opt-in on your company's newsletter or updates are always better prospects than those on a purchased list. If done right, emails to customers can grow your brand and convert into transactions.
Search Engine Optimization (SEO)
The second oldest form of marketing (since the rise of search engines such as Google) is search engine optimization (or SEO). The purpose of SEO is to optimize content using relevant keywords so that your company's website ranks higher in  Google or Bing searches. SEO is organic and does not require payments like Pay Per Click (PPC). Being mindful of what keywords drive search engines to rank your website is vital; for instance, if you are selling trees in Napels, the content on your homepage should mention both Naples and trees. If you are selling a specific sort of tree such as oak, your site's content should list Napels and oak trees.  SEO is an simple and inexpensive way to drive customers to your website.
Pay Per Click Marketing (PPC)
We briefly touched on pay per click marketing (or PPC). It is an excellent way to reach customers seeking a good or service your company provides. PPC uses a brief ad that advocates why a customer should use your company's products or services and then give a list of relevant keywords.  It works like SEO. If your business is a law firm in Fort Myers, use keywords more specific than just Fort Myers or law firm. Also, you should not be too specific in your PPC advertising. Listing the area in Fort Myers where the law firm is located and the type of law such as "probate law" will be helpful. Using the firm's address as a keyword is too specific.
When you place a PPC ad on Google or Bing, you're bidding on when your ad is viewed. Fifty cents a click won't result in as many views of the ad as a five dollars a click. Don't forget, your PPC can be as expensive or inexpensive as your company's budget allows.
Social Media
Various social media platforms provide  a way to interact directly with customers and be a way to build brand recognition.  You can use brand-specific language, photos, iconography and hashtags to promote your company's image.
Social Media can be used to drive traffic to your site.  Using hashtags relevant to your company's goods or services can bring additional views on social media. Including a link to your busness's website will also drive traffic there. If your post is shared, additional backlinks are created to your website, which helps your search engine page rankings (or SERP).
Content Marketing
Good content makes a difference.  A combination of splashy, eye-popping graphics, well-written content, and strong calls to action all help ensure customer visits to your website become conversions.  Your company's website should accurately reflect your brand.  Include a way for the customer to communicate, such as live chat or a contact form.
To Sum Up
Digital marketing isn't just a single thing; it's an agglomeration of various platforms and techniques that use the internet to influence customers. Mastering each part of digital marketing will result in a better bottom line for your business.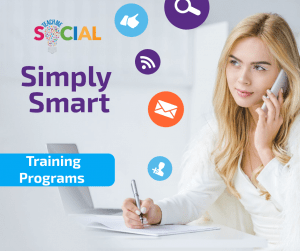 Our training program has 3 components: consulting, training, and coaching.
We consult with you to develop a strategy. We train you on implementing that strategy and the coach you through to success.
we work with you to develop a strategy for you first. Then work with you so that you have the skills to implement your strategy and then coach you through the process to ensure your success.  Learn More