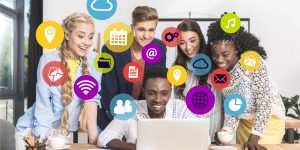 Did you know that more than half of the world's population is on social media? Even if your audience is only in your own city, there is a tremendous opportunity for any business owner to be able to connect with people near and far using technology that so many have. However, if you're having issues creating an effective social media marketing strategy and are ready to give up, listen up.
Understand Your Buyers
Don't just start posting on social media without understanding who you're talking to. You need to use the words and terms and ideas that generate good feelings. You can only do this by diving in and researching who your audience is fully. Try creating a buyer persona to help you keep focused.
Be Who You Are
It's easy to become a brand online but the problem is, people don't trust or engage with brands – they trust and engage with people. For this reason, you need to figure out who you are and be the real you in your social networking, whether online or off.
Provide Real Value
When you post anything on social media – whether it's a meme, a link to a blog post, an article, or really anything – the content needs to be valuable or feel valuable to your audience. To do that, get very clear on who they are, who you are, and what you do for them.
Show That You Are a Credible (Real) Person
As mentioned before, people don't engage with or like brands all that much. They tend to like the people behind the brands. A brand can be great one day and down the next, while the person can be forgiven when they are credible and real. It's therefore crucial to show your audience that you're a real person.
Build Your Reputation
Use social networking and your content, start slowly building your reputation over time. Blog, write articles, publish books if you want to, speak at events, speak at your own events, go "live" on Facebook or YouTube… Give your audience every chance to see you stick by your word and be who you say you are.
Stop Over-Marketing
People do not go to social media to buy anything. This is not to say they will not buy. However, understanding that people are not using social media to find things to buy will go far in helping you stop over-marketing. Instead, focus on providing valuable content with a relevant call to action.
Create, Curate and Post Shareable Content
An effective way to get more engagement on social media sites is to create, curate, and post sharable content. The way to make content sharable is to make it interesting, beautiful, and informative. Plus, ask them to share.
Understand SEO for All Posts
Search engine optimization isn't just for your websites; it can also be used on your social media posts. A blog post is a type of social media, though, as a blog with comments is socially driven. So, if you think of it that way, you'll want to always include a keyword-rich, targeted and compelling title, keyword URLs and more. Learn about the technology that you use to find out more about how you can enhance SEO on the platform you're using.
Use Compelling Images
How your posts look, whether on your blog or a social networking site, is what will attract your audience to click – or not. Including gorgeous images that really enhance the meaning of the post will ensure more shares as well as more reading. Consider using more images that you make yourself rather than stock images.
Finally, no matter what platform you are using, research the ways in which you can optimize all aspects of that network. Whether you are using one or more, if you know why you're doing it and for whom, it's going to help you organize it and keep it together so it doesn't get away from you.

Growing Your Business Using Social Media– This Course Bundle will guide you through all the steps necessary for you to be successful and gain results.
If you are struggling with effective social media marketing, knowing what to post, how and when then…. Download your copy today!