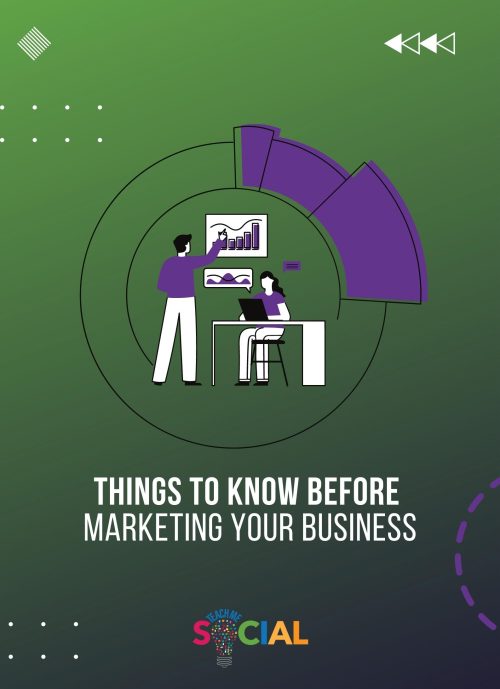 Free E-Book
THINGS TO KNOW BEFORE MARKETING YOUR BUSINESS
You are ready to start marketing your business. Here are a few things to keep in mind when getting started.

Does this sound like you….

You are posting sporadically without any goals

You no longer feel inspired by your content

You aren't seeing any financial returns
You have observed a drop in engagement and prospects aren't doing what you want them to do (e.g., click, sign up, purchase)

Your social media metrics aren't painting an accurate picture of your business reality (e.g., lots of followers, no sales)

Marketing Training That Keeps You In The Know
If you feel like you're putting in the time but not getting results on social media, it probably means you don't have a good strategy in place. With a good social media strategy in place, you'll save time, make better use of your resources, AND see more results.
Your social media strategy will help you create a prioritized to-do list so you'll know just where to get started each day
Simply Smart E-learning Programs

Getting results from your marketing is important to you as it is to us.
Our Simply Smart E-learning programs allows you to learn at your own pace because your time is important.

New programs are added monthly

The Step by Step Path to Social Media Success You Have Been Looking For 
Easily to use tools and materials to grow your business using social media.
Simply Smart Marketing Newsletter
When it comes to marketing your business, you are Simply Smart

LEARNING IS IMPORTANT TO YOU

You are looking for articles that provide you with the information you need to market and grow your business. New articles are posted weekly.